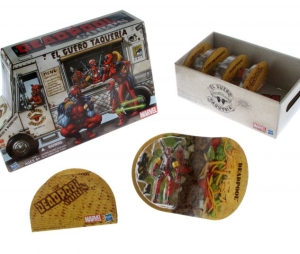 Caution: Dogpool Driving.
At just a little over a month away, our yearly uber geek-out at San Diego Comic-Con is already promising to be filled with hijinks, spandex, and TOYS.
As the con has grown over the last few years with the explosion of geek culture, it's become less important for our crew to stand in massive lines for panels and junkets, and more fun to scoop the exclusives, swag, and up and coming goodies from our favorite vendors. You heard me – disregard panels, acquire swag.
As it's early, exclusives are still being released (Funko! Where are you??), but here's a peek at 5 must haves that have been announced so far.
1. Hasbro – DJ Pon 3. You know you've always wanted a Swarovski crystal coated pony. Here's your chance – and what better way to get it in than everyone's favorite pony DJ (how DOES she spin records with no fingers??). The glittering light-up box clearly states "Adult Collectible Only. This is not a toy." So, uh, get out of my way. $49.99
2. Entertainment Earth – Star Trek TOS Coaster Set. Ok, this is most certainly not a toy either. It's a set of fabulously retro-looking wooden coasters, each depicting an episode from the original series. What's not to love? 80 designs total, two sets of 40. I'm hoping to see something with tribbles. $99.99
3. Gentle Giant – "Magnitude" Admiral Ackbar Minibust. The email I received from Gentle Giant said it the best "You can't resist a bust of this MAGNITUDE." This is one of my most favorite character redesigns ever – a truly epic mustachioed Napoleonic Ackbar bust. At 8 inches tall, detailed with the rebel logo and in his own screen printed wooden box, this figure does indeed carry a magnitude of majesty and glory, in only the most Star Wars of fashions. $175.00
4. Hasbro – Deadpool Corps Taco Truck. It doesn't get better than this. Deadpool, Lady Deadpool, Champion of the Universe, Kidpool, Dogpool, AND Squirrelpool, all nestled inside their own taco shell inside the El Guero Tacqueria truck. Just look at it. LOOK. Dogpool is driving the truck. COME ON. $49.99
5. NECA – 1989 Video Game Jason Voorhees. He's decked in purple, glows in the dark, and comes wrapped in his own awesome throwback 8-bit video game cover. The mask is even removable, sharing glorious grimmace. What more could you want? $25
-Caitlin Elgin