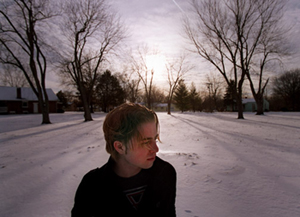 Here is our interview with Bryce Avary, also known as the sole artistic force behind Indie darlings The Rocket Summer. The only thing I had heard of Mr. Avary was that he was an exceptionally nice guy. First thing out of people's mouths had nothing to do with how his music was (which later I was told was pretty good), but just how genuinely kind this guy was. I got the chance to meet Bryce outside the Chain Reaction in Anaheim, and the first thing that caught my attention was how nice he was. When the world's supply of really nice guys dwindles to the point it is at now, you notice nice people more. Anyways, what I found was a man who wishes to share his craft with everyone, but has been getting a little bummed out by downloads and burning of his latest album, Hello, Good Friend. Here's how it went:

Racket: Your new cd, Hello Good Friend, comes out on May 17th. Are you excited?
BA: I'm so excited! I'm going to cry my eyes out, in a good way, when it comes out.
Racket: I heard that you played all the instruments yourself. What else did you do on the record?
BA: I didn't do the mixing, but I did a lot of the producing. Obviously, I wrote the songs and played everything. It was hard, I just cut myself off from everyone I knew and moved away and recorded it. It's been so weird. It's such a different situation from Calendar Days. It feels like every turn is something harder. Things aren't working out, but it's kind of exciting because I hope that that means it will be really good. I have to endure all of this pain before hand so that when it comes out, it'll be like fireworks.
Racket: How do you feel about the fact that the album's been leaked and lots of kids already have the album?
BA: I don't think it's cool. I don't necessarily think it's not cool, if people actually buy it. I don't even know how to go into how much it affects you when people don't buy a record. Obviously, there's the financial side of it; that's huge. It's how you make your money and pay rent. I'm a married man, so I have to do that. I want to keep making records. I don't want to be unable to because fans burned my records. It's weird to think that that could be. It's how you get on tour with other bands. Record sales affect how you're perceived. It's a really stupid idea, it's doesn't make much sense these days to judge someone by their record sales because of cd burning and all that. I don't really think it's cool, but if you're going to buy the record, by all means, download it. If any record makes you feel good, just buy the record. I don't get it. I guess it's hard to understand if you're not on the other side of it. Yeah, so that's how I feel about it. Out of any Militia Group artists, I'm the most burned one. We're trying to figure out why that is, because we draw pretty big crowds, but it does not show for record sales. And everyone sings every word. I'm just like, "how do you guys have all of this?" I don't really care, it's about connecting with people, and that's REALLY the bottom line, but to answer your question, it kind of bums me out.
Racket: How do you think your album got out?
BA: I don't really know, honestly. When I found out, I was kind of bummed, but I didn't realize it was going to be such a big burning thing. I think there's got to be over 20,000 people that burned it, or something crazy like that.
Racket: Do you sell a lot of records at shows?
BA: Nope. We sell a lot of shirts, which is cool. I just don't think people buy records, anymore.
Racket: Are you going to have your albums up for iTunes download?
BA: Totally. It's a big deal. It's really discouraging. It's discouraging to them (the label), too. I sell records, I can make records, and make records with budgets that allow me to sleep in a bed, and not on the floor. Record in a studio, and not in a kitchen, on a computer. My gosh, I had to borrow $8,000 from my dad to make this record because Militia couldn't pay for it because sales were so small for Calendar Days. So, just to clarify: It's a big issue. I just feel awkward talking about it. I don't want to make people feel bad. They're telling me "You have to stick up for yourself," but I don't want to bring a bad vibe to the party, but at some point you have to.
Racket: Is there any background to the album title?
BA: Yeah, it's a lyric in one of the songs on the album, and I thought it was an appropriate album title. It's like, "What's up, let's be friends."
Racket: Is there any unifying aspect to the album?
BA: It's kind of like a lot of songs put together, but there's a spiritual tone, without going too deep into it and telling you a really long story. It's all about life. It's about life. Having a really positive amongst getting screwed a lot… I'm totally not talking about record sales. I'm just talking about… Oh my gosh, this interview is going to be so funny. It's about relying on God to fix your problems for you. It's really uplifting.
Racket: Does getting married have much to do with that?
BA: Yeah, definitely. There's a couple of songs about that. I finished the record two of three days before we got married, it was a busy week. When I wrote Calendar Days, I was in high school, just living at home. It's now been several years of just growing up, growing as a person spiritually and musically, seeing the world and seeing lots of different kinds of people and dealing with a lot of stuff. It's kind of what Hello, Good Friend is about.
Racket: What does your wife think about all this touring?
BA: She's cool, she goes on tour. She's here, she sells merch. She does a lot of tour managing, too. She was going to be in the band, actually, she plays bass, but we decided not to do that. We're going to start a side project. We really love to play music, but we didn't want our relationship to be involved in such a serious career thing. We're going to have a side project that we specifically play in front of no one and not take it seriously at all.
Racket: You're currently on tour with three other Militia Group members. Is the Militia Group more like a group of friends?
BA: They kind of just set up a tour and we all got to meet when we got there, but it's been really fun to tour with everyone.
Racket: Cool, man. That's all I got.
BA: Cool, I hope you enjoy the show.
By Jonathan Yost